INSU reflector
'INSUreflector' is a radiant heat reflective insulation material made of polyethylene air bubble film (ABF) laminated with aluminum foil on one or both sides. It is a low e-reflective insulation material with a low mass to air ratio, which effectively blocks the radiant heat transfer. The bright surface of the aluminium foil, which encases the FR polyethylene air bubble material, reflects 96% to 99% infra-red radiation received by the surface of the heated slated roof. The placement of the radiant barrier shall be in a manner to provide an air space below the roofing sheets or between vertical cladding for its effective utilization.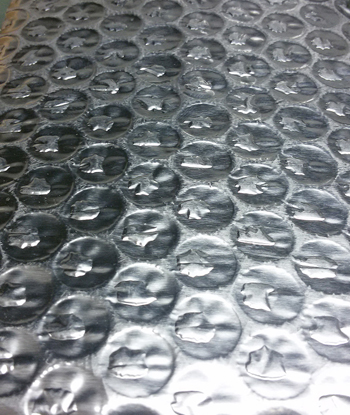 Features & Benefits
High reflective value - Reflects 96% to 99% of radiant heat
Fire Characteristic - Conforms to BS 476
Unaffected by alkalis, alcohols, detergents, petrochemical Part 6 & 7. Class '0' & Class 1 category products and most mild acids respectively
Non-toxic and fiber free - Environment Et user friendly
Excellent tensile strength; puncture and
Negligible water vapour transmission even after 28 days tear resistance
Corrosion resistant
Non-carcinogenic. Chemically inert and does not any formaldehyde or other combustible Volatile Organic Compounds (VOC)
Industries
Pharmaceuticals
Industrial and Poultry sheds
Textile mills
PEBs Airports
Logistic warehouses
Skating Rink
Manufacturing units and many more...
Applications
Underdeck Insulation
Wall Insulation