Floor Protection Sheet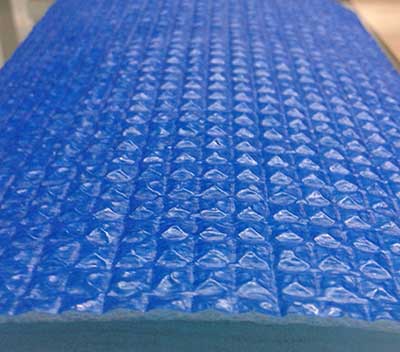 These multi layer material can protect your precious floor tiles, marble, granite, wooden floor etc. while interior work like civil, electrical, painting or carpentry is going on. You need not use POP, any kind of paper or any plastic sheets. No skilled labor is required for laying and unlaying. You can lay it like a carpet on the floor.
The material is very tough but flexible. One can use it over skirtings and staircases also. After work is done you can remove and reuse it.
The material is water resistant, UV resistant, re usable, very light in weight, environment friendly etc.
Safeguards floor tiles from foreign particles and impacts.
Durability is much higher due to its multiple layering. It is resistant to wear-tear, UV rays, breakage, water, attrition, notch impact, terpentine, thinner etc. & does not suffer abrasions due to its high density polymer sack material coating.
Can be laid down very easily and the installation process is uncomplicated, which can be completed in few steps. So installation is very cheap.
It is made up of eco friendly product, it is very light in weight, skid free & reusable.
Since it is reusable, it can be reused to cover or protact flooring again or as a packing to protect delicate or fragile material.
One can use it to protect marble, granite, marbonite etc & porous floorings like wooden floorings also without using separate plastic sheets.
Since it is UV resistant, it can be used to protect flooring of open areas like swimming pool also.
After applying heavy weight on it also, it immediately reforms it's shape.
Since material is flexible it can take almost any shape. It can be laid on staircase & skirtings in one piece.
Laying POP accumulates dust in joints between two tiles. Where in this material there is no such chance.
When POP is used, flooring usually becomes rough, allowing dust to accumulate on upper surface of POP and site becomes very dirty. Since it is waterproof, the upper surface can be cleaned & stains can be removed with water.